Upgrading your firearm is an important part of owning one. An accessory that commonly gets a poor reputation in the news, but is ideal for thousands of owners, is a sound suppressor.
One of the major factors to take into consideration when selecting a gun silencer is which firearm you fire most. The most common suppressor for sale will be one of three: .30 caliber, a .45 pistol, or a .22 magnum rated silencer. A 9mm suppressor is also a very common silencer, but typically only used with handguns. With these three (or four) in mind, you can begin to narrow down your search by selecting firearms from your collection that can handle these calibers.
For more of the common suppressors and silencers, these are what you will generally find when exploring the market.
Rimfire Suppressors
These silencers are designed for a rimfire cartridge. They tend to be smaller and lighter than other versions. It has several benefits to it, such as the ability to fire dirty. Don't let that lull you into never cleaning it though; rimfire suppressors are often designed to be easily cleaned. Also, these are some of the quietest cans on the market. They would have the movie-quality noise suppression that people really want to achieve. These silencers have a ½ x 28 thread pattern that will attach directly to the barrel.
Multi-Use
These are what the category suggests. They utilize traits from the rimfire, rifle, and handgun suppressors to create a multi-function silencer. These are able to move between multiple firearms without adjusting them too much. The biggest downside to these is that they are a jack-of-all-trades type accessory, but a master of none. If you want a specific quality in your suppressor that isn't multi-use, this might not be the ideal silencer for you.
Handgun Suppressors
It's important to note, that this category is typically reserved for pistol silencers. Often revolvers make poor firearms to receive suppressors requiring very specific units. The common form of handgun suppressors will be found for pistols.
Rifle Suppressors
These are tested and rated for the power of a rifle. Most of these will be caliber specific so they can withstand and be sized perfectly. Unlike the rimfire silencers, these rifle suppressors are often sealed and can't be cleaned. Fortunately, they don't require cleaning often, if at all.
Shotgun Suppressors
Finally, we have shotgun suppressors. These are the least common type of suppressor, really only appealing to a select group of people. Most likely, unless you absolutely love your shotgun and it is the only firearm your buy accessories for, you will want to explore another option. You can oftentimes find a choke to fulfill the needs of a shotgun suppressor.
Important Things to Note
●     It's often very difficult to test fire suppressors. If you do find a dealer to test fire, there is an even slimmer chance that you will be able to test compatibilities with your firearm. You will be restricted to using their suppressor and firearm.
●     Check the tone, not the decibel level. Every dealer is aware by now that a third party is going to test the decibels of a suppressor. Many of the ones you will look at will have nearly identical numbers. Once you've decided on the suppressor you want, read some forums written by people who actually have them to gauge the tone of your particular preference.
●     Define your price limit. Don't go into this search without some understanding of what you are able to spend. There is a huge range to select from and you can find the perfect suppressor that is way above your price point.
●     Think about what you want to use your suppressor for. Many people use them for hunting so they don't scare away their prey. Others use it to save their ears from all the noise pollution. Some people do it to be a good neighbor. Whatever your reason, find a suppressor that lines up with what you intend to do with it.
●     Finally, always keep in mind the firearm you are going to attach it to. Compatibility is crucial for your suppressor and firearm. Have fun with your search, but don't get discouraged. There are a lot of suppressors for sale out there. You'll find the one that's right for you.
Though there isn't a clear cut AR that stands above the rest, there are several manufacturers that outperform their competitors. Ask most gun owners and they will attest to the qualities of certain brands over others. But everyone has their own favorites, which is part of the reason ARs are so damn popular. Something we all love about the AR is their variety. You can customize an AR to make it unrecognizable from the stock product.
Many people say that MIL-SPEC makes the AR. That seems to have adjusted to be more of a marketing ploy rather than an accurate representation of the firearm. There are some criteria and specs that you should look for when you want to find an AR-15 sale. Some of those might include: M4 feed ramps, a high pressure test, gas key that is appropriately staked, the chamber and bore are both chrome-lined, and they are chambered for the 5.56mm NATO. There are plenty of other factors that define quality, but these are a start in what to look for when selecting your ideal firearm. So based off of those criteria, along with general consensus on what makes an ideal AR-15, here is a list of five of the best AR-15 manufacturers on the market.
Barrett
Since the company is known for initiating some common trends in the AR-15 world, it is only fitting to have them lead the list. Though not an overly old company, dating back to 1982, Barrett has made an impact on the industry. They are credited with making the first shoulder-fired .50 BMG rifle. They are also credited with taking industry standards for an AR-15, bringing all those specifications into their model, and producing some of the world's best AR-15s.
Colt
Colt might have defined early specifications for what an AR should be. Often being at the forefront of technology, they continue to provide commercial grade AR-15s that are almost identical to the military M4. So when you read MIL-SPEC on a Colt AR, it's a damn good chance that you are getting products worthy of our armed forces. Just because you've been doing something for a long time doesn't mean you will consistently be good at it, but Colt defies that theory by producing industry-defining AR-15s.
Daniel Defense
Necessity is the mother of invention. And when you need high quality AR-15 parts and can't get them, you start your own company to become a leading producer or top-tier AR-15 rifles and AR-15 accessories; at least, that's what Marty Daniel did when he founded Daniel Defense. Their AR-15 line has become a staple of the market, impressing thousands of gun enthusiasts with their performance grade finishes. Additionally, Daniel Defense prides itself in crafting many other of their own parts in house. That means the sights, rails, stocks, and flash suppressors will often be made by the company providing the kickass AR.
Heckler and Koch
With origins dating back to supplying firearms to the German military in 1956, it is easy to see why H&K has become trusted with the MIL-SPEC standards most people want in their AR. The HK416 was the firearm that killed Osama Bin Laden. Tried and true firearms that are then crafted for the general public are what H&K excel at. The real ingenuity of their rifles comes from their proprietary gas system, which is based off of a pusher rod. Though often a little bit pricier than some of their counterparts, H&Ks are worth the cost.
Smith & Wesson
Another company that needs no introduction, Smith & Wesson has provided quality firearms for generations. Their AR-15s are no different. They are the dependable, quality rifles that we have come to expect from the S&W name. When you purchase a Smith and Wesson AR-15, you'll also have access to many of the key details that firearm owners want in their typical AR. It's hard to have a list of quality firearms without including a S&W.
Now that you know some of the brands, you'll want to start looking for good gun deals. One of the best options is to purchase with online layaway. This option gives you the flexibility you need to pay for the AR as you build the capital for one. Many of the ARs on this list have a higher price tag than other firearms.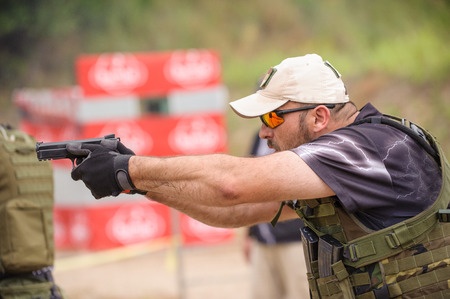 The standard-issue Beretta is being retired after 35 years of service by the U.S. Army. With the wave of tech spreading over all areas of society, it is not that surprising that the new military sidearm is going to be modular.
Recently, the military held a two-year competition in which handgun manufacturers competed for a contract with the Armed Forces. Instead of designing a firearm in house, utilizing the private sector to harness another firearm seemed like the most beneficial avenue. A lucrative contract with the armed forces would be incentive to produce exactly what the U.S. Army needed. The "Modular Handgun System" competition was listed at $350 million, but could be worth as much as $580 million before all the ink dries. The process had drawn the ire from lawmakers, stating that there are deeper problems with "defense acquisition" than merely changing the standard sidearm of the U.S. Army. Though it took longer than expected, the military wanted to get it right. Ultimately, the P320 from Sig Sauer was selected.
And there are plenty of reasons why it makes an ideal selection for the newest sidearm for the military.
Sig Sauer has produced a firearm that is multiple handguns in one. The P320 accepts a wide variety of accessories, including silencers and handgun magazines. It also has the ability to change grips. With the grower number of women joining the force, there is a higher need to produce firearms with grips for multiple people. It also means that when soldiers need to apply a different tactic with their sidearm, their Sig Sauer will be up to the challenge. Additionally, the version of the P320 comes in a variety of sizes; another positive addition to what the military needs. Every soldier isn't created equal and neither is every firearm. The men and women of the military come in different sizes and so do the magnitude and necessity of their missions. Smaller versions can be used for more secretive operations while the other, larger handguns can be utilized in the field.
Something more, the P320 is convertible between several different calibers: Currently it can be transitioned between a 9mm, .357SIG, and .40S&W. The multiple uses continue. But it isn't just the modular features that make it ideal. When the everyday citizen wants to buy a Sig Sauer, they look at all of their features. And that's what got the U.S. Army so interested in them in the first place.
At their core, the P320 is a double action, polymer-framed pistol designed with law enforcement in mind. It is considered an extremely easy firearm to clean and therefore maintenance is simple. The fire control assembly (which is removable) was created by Sig Sauer. Calibers and barrel lengths are just two of the changes you can make with the P320. Since it was designed for law enforcement, the P320 has no external safety or decocking level. This prevents any issues with the draw and the firearm snagging. It's all capped off with SigLite night sights. These come standard on the P320. Perfect for any night combat. The ambidextrous magazine release is ideal for multiple people to use. This firearm makes so many other pistols look like merely cheap handguns.
Overall, when the military decided it needed a new firearm, they knew they had to go out and discover a firearm that could fulfill multiple needs in various situations. Furthermore, this firearm is perfect for countless people. It's no real surprise that technology and necessity drove the U.S. Army to make their decision. And so far, they seem to be very pleased with their decision. According to many close to the choice, they say that it was a sensible choice with many positive outcomes.
If you are looking to upgrade your firearm like the military did, you might want to look for handguns online. There are a wealth of Sig Sauer handguns for sale at numerous retailers like GrabAGun.com. You can do yourself a favor and make use of their inventory to find a firearm like the P320 to add to your arsenal.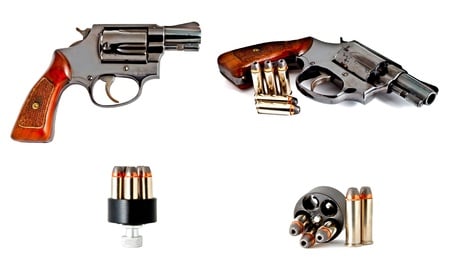 The iconic revolver is loved by shooters around the world. But it does have some negative qualities. One of the biggest problems people have with revolvers is their slower reload times. To combat this, speed loaders were invented.
There are three main types of speed loaders currently on the market: the basic speed loader; full-moon and half-moon clips; and speed. Each type has its own pros and cons, and often it is more the preference of the user than one choice being hands-down better than the other two . Here is a quick review of the different types of revolver speed loaders.
Basic Speed Loader
These loaders are designed for specific revolvers, so there are plenty to choose from. They are made to quickly reload the full cylinder at once. When you only have 5-6 shots before a reload, these all-out, all-in loaders can significantly cut the time it takes you to reload. These loaders are considered to be magazine loaders due to the way they fully stock the firearm much like a magazine does a pistol. The fast and reliable capabilities of these loaders do have their downsides, though. Due to their size, they take up considerable room in your pockets. There are speed loader carries, but if you are trying to carry concealed, this is yet another thing you need to keep hidden. Likely the most apparent downside is that the loaders are not universal. If you are using two different calibers and types of revolvers, you will need to own a different speed loader for each.
Full-Moon Clips and Half-Moon Clips
These loaders are thin discs that can hold six (for the full moon) and three (for the half-moon) rounds to be easily loaded. These clips can fit in a closed cylinder with the ammunition, so to reload your revolver gun you only have to eject your spent cartridges and cycle in a fresh clip. The half-moon clip applies the same concept, only it removes and adds three rounds at a time. Compared to the other loaders, these clips tend to have the fastest load times of the bunch. There are some drawbacks, though. First, not all revolvers accept moon clips. Additionally, if your firearm does take a moon clip, you need to be sure that the clip can hold the caliber bullet for your firearm. For half-moon clips, a degree of accuracy is needed when loading to make sure your first three rounds begin at the start of your clip; if you fail to load the cylinder in this manner, you may eject several rounds prematurely. It is important to note that moon clips are more comfortable for carrying in your pocket than traditional speed loaders.
Speed Strips
Somewhat resembling an open magazine, speed strips are clips that can feed revolvers one to two bullets at a time. These strips can be easily carried in your pocket. More importantly, they are generally universal. That is to say, if your revolver uses a .45 caliber, then the speed strip needs to hold that type of ammunition and will be compatible with any revolver that takes those rounds as you are not placing anything other than the rounds inside the firearm. Furthermore, since speed strips only load one to two bullets at a time, you do not run the risk of wasting any rounds by discharging unspent rounds prematurely, as with half-moon clips. One of the biggest downsides to using a speed strip is it requires more practice to become quick at reloading your firearm. Your fingers must move in a succinct and dexterous fashion to accurately and efficiently load your firearm. However, practice with your revolver is how you get better with it – both for shooting and loading.
Each of these options has its benefits and its drawbacks. Practice with your revolver, try out each speed loader in the place you will carry it, and think about the situations in which you will find yourself needing to quickly and accurately reload. All of the above options are viable; it is up to you to find the speed loader that is best for you and your revolver.
Sometimes it takes some good old-fashioned American ingenuity to create an icon: Horace Smith and Daniel B. Wesson are two prime examples of that statement. These two New Englanders formed a partnership in 1852 with the goal of creating a lever-action repeating pistol that utilized a self-contained cartridge. Financial difficulties would plague the company during its early years, forcing the partners to sell the company to another little-known manufacturer called Oliver Winchester.
The partners would not be deterred by their initial setback, and in 1856 Smith & Wesson would again produce a revolver aimed at firing the Rimfire cartridge they had manufactured in 1854. It was the first of its kind to fire fully self-contained cartridges. A patent would buy Smith & Wesson a few years to improve their product, leading to the creation of the Model 3 American. The original large caliber cartridge revolver, the Model 3 had two big market clients: the United States government and Russia.
Smith & Wesson thrived for decades, until Horace Smith retired at the age of 65. D.B. Wesson, now the sole owner of the organization, would continue the work he and his partner had started. In the late 1800s, he introduced a line of hammerless revolvers. Most notably, however, was the following Smith & Wesson introduction: the Model 10. The Model 10, or .38 Military & Police, has been in continuous production since it was first introduced.
The 20th Century would also see some iconic revolvers introduced, including the .357 Magnum. From there, S & W would manufacturer the Model 39, the first American-made double action auto-loading pistol.
Smith & Wesson Revolvers Today
The company has undergone some changes over the decades, but they still hold try to their core values and ideals. Many of the Smith & Wesson firearm models from the 20th century can still be found for sale today, though in an updated version of their predecessors. That timeless aspect of the brand has caused gun stores and online gun stores to continue to carry a vast inventory of the Smith & Wesson brand. Let's take a look at some of the favorites you might find when looking for revolvers for sale.
Smith & Wesson 10 Blued .38 Special
One of the longest running models in production, the Model 10 is a true classic. It is as much a part of firearm history as it is American history. The wooden grip and steel frame symbolize how far the revolver has come and how yesterday's materials are still some of the best options for today's firearms. If the past is an indication, the Model 10 will continue to be produced for decades to come.
Smith & Wesson .357 Magnum
Another revolver that has withstood the test of time is the .357 Magnum. This is their Model 586, a single/double action medium-sized revolver. Like many other S & W's, it retains the wooden grip that many collectors are looking for. Six rounds are ready to be fired out of the 4-inch barrel at the touch of a trigger. The modern version is every bit as fierce as its earlier renditions.
Smith & Wesson Model 29 .44 Magnum
When people see this firearm, it often evokes memories of Clint Eastwood in Dirty Harry. There is a reason this firearm strikes fear into people, and it is not just from that iconic movie. Today, it features a 6.5-inch barrel, carbon frame, and a double action. It's hard to find a revolver you will like more. The Model 29 is a true stand-out among pistols.
Smith & Wesson as a Company Today
Though revolvers have been – and will continue to be – the staple of the Smith & Wesson name, the company realizes that it needs to branch out. So now when you are looking for a handgun for sale, Smith & Wesson will also be able to provide more equipment produced from the same manufacturer to fulfill all of your handgun and accessory needs. Check out your favorite gun provider for not only some of the updated versions of classic S&W revolvers, but for many of their products to help amplify your next experience with your revolver.